Davids and Goliaths
What a breath of fresh (saltwater) air Summer 2021 is turning out to be for Catch-A-Dream. We have had the immense pleasure of seeing many dreams become a reality in June, most of which had been postponed from their original trip date. We've seen some amazing "Davids" in the form of Catch-A-Dream children beating the odds and pursuing their fishing dreams, and they've even take down a few Goliaths!
Goliaths in the forms of GROUPERS have been caught (and all safely released) at record sizes in 2021, and have been large parts of many of our Catch-A-Dream Junior Partner's top-listed desires to bring to the surface. If you keep up with our Facebook, Instagram or Photo Webpage, you may have seen Daylan, Elaina, and Hunter's HUGE catches, but here's a photo from Will's recent trip as well!
We have a trip happening NOW and look forward to sharing that young man's adventure soon as we pray for his dream fishing experience, and more, to be fullfilled. Stay tuned!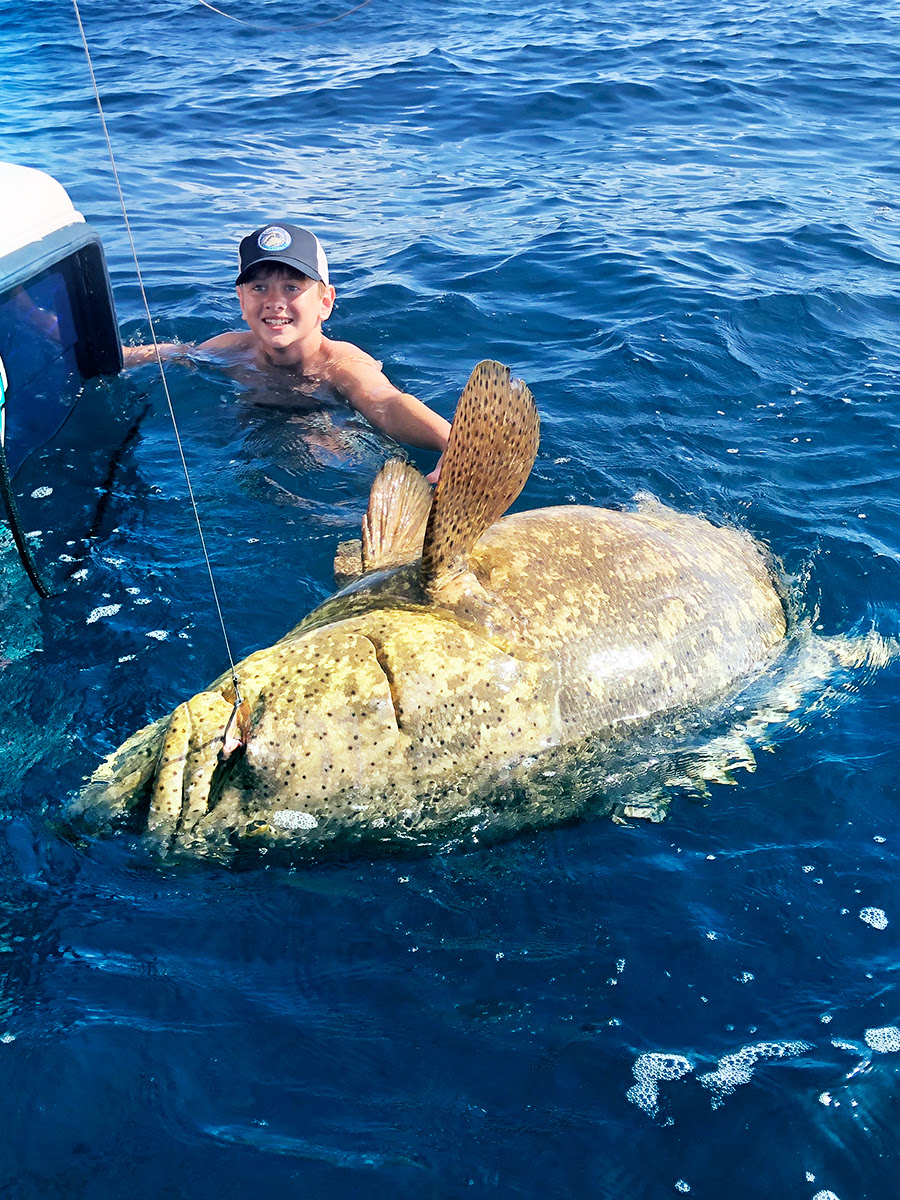 Will, age 13, jumps in the ocean to pose with his massive catch before the grouper was safely released. Special thanks to TNT Fishing Charters in Venice, Florida!
Future Dream Trips
If you are like many of us, you are counting down the days until hunting season. Here at Catch-A-Dream Foundation Headquarters we are busy planning for 2021 hunting season for our kids and families.
We are fortunate to have exceptional outfitting partners and are eagerly awaiting seeing dreams of chasing whitetails come true for many 2021 children who are looking for an opportunity to forget they are sick by experiencing the great outdoors.
It's never to early or late to refer a child to our Foundation, so if you know of any children who dream of a once-in-a-lifetime hunting or fishing experience, please send them to our application page or simply text 2APPLY to 51555.
"God provided hope this week. He showed me that awesome people would sacrifice weeks of their life to give me this opportunity. God did not take away my pain or imperfections but instead he showed me that I can go head to head with an animal three times my size and win. He showed me how much my story can impact the many people that made this happen. People I had never met said that seeing what I am going through has changed their lives. I had impacted people through showing God's good works. This last week countless things that "never happen" happened."
– QUOTE FROM OUR MOST RECENT CATCH-A-DREAM JUNIOR PARTNER. STAY TUNED FOR THOSE MIRACLE MOMENTS FROM SAM'S CATCH-A-DREAM ADVENTURE!
Don't forget! Time's almost up for entering our Premium Elk Hunt for 2 Hunters. And it's no coincidence that we are drawing just as we pause to celebrate the 4th of July! Some lucky hunter, and their favorite hunting buddy, will be going to FREEDOM OUTFITTERS in New Mexico this FALL! Every dollar spent on raffle tickets helps fill the fundraising gaps caused by Covid issues, and furthers our Catch-A-Dream mission of providing HOPE to hurting children and families as they realize their own hunting or fishing dreams. YOUR dream adventure can help make THEIRS come true, so join us and  ENTER THE 2021 DRAWING  by NOON, July 2, 2021.